Career & Internships
Welcome Students!
The CSSE provides career preparedness, career and internship guidance to students as they move through their academic careers. All Career & Internship learning and development workshops and resources are developed and tailored to incorporate one or more NACE (National Association Colleges and Employers) competentices to help strengthren College of Engineering student's career preparedness. NACE defines career preparedness skills as egith competencies (benchmarks) to prepare students for a successful transition into the industry after graduation.
Maximize the benefits of career readiness. Career planning is an important segment of your college years. There is a Four-Year Career Plan that begins your freshman year when you determine what career and/or major you will pursue. The SDSU Career Services has career counselors available to guide students through a career assessment.
CSSE's STUDENT CAREER PREPAREDESS INFOGRAPHIC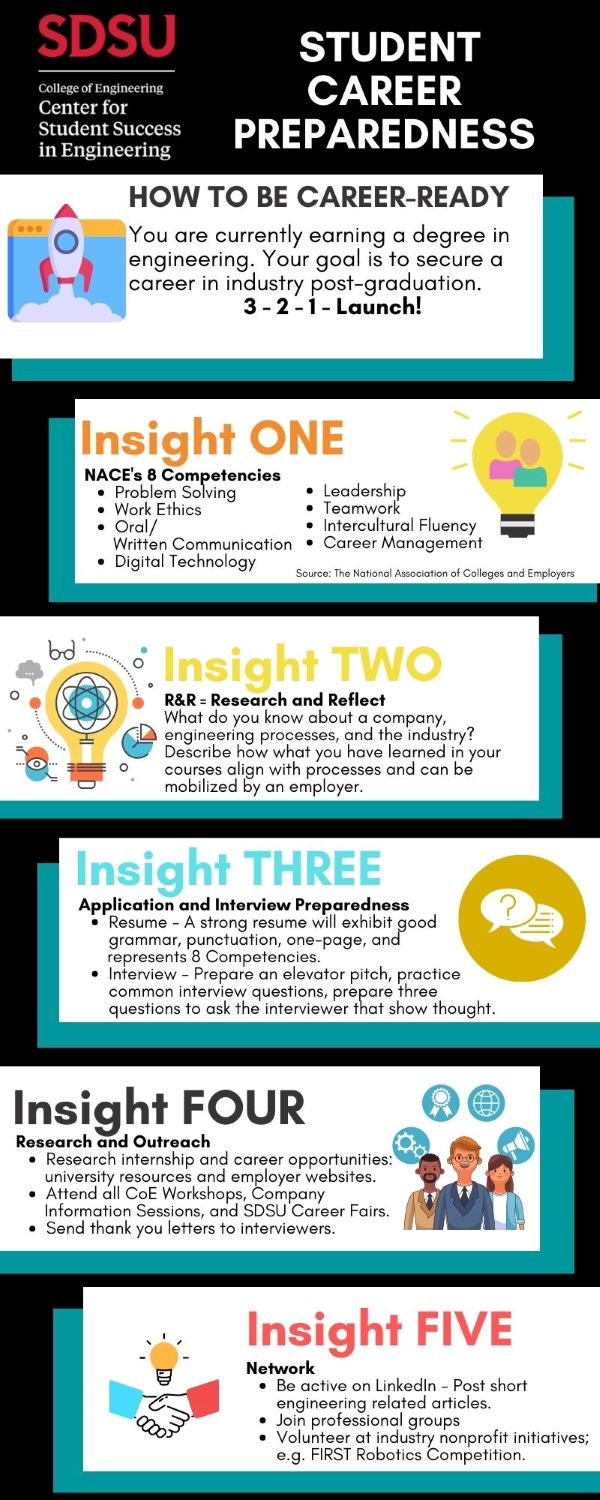 Student Career & Internship Guidance
Resume Review

Professional Development Workshops

1-on-1 Career Counseling

Partner Events with Local Companies
Current students can stay up to date by logging into the College of Engineering Homeroom in CANVAS. For more information please email Liza Aguirre-Oviedo, Career & Internship Coordinator - [email protected] To schedule an appointment, current engineering students can make an appointment by accessing Navigate.
Future Events
Students check the Canvas Homeroom for event locations.
March 2023
Spring Break March 27 - 31
April 2023
Save the Dates - April Spring Career Preparedness Workshop Month - Just in time before graduation.
April 10 - The Raymond Group Info Session - Civil and Construction Engineering Majors

April 11 - G2 Software Systems Info Session - CE, EE, and ME Majors

April 20 - Personal Finance Management for Engineering Students Presented by Cal Coast Credit Union
May 2023
Engineering Senior Design Day
The annual Design Day event takes place during the spring semester, in the first week of May. This is the largest College of Engineering event which showcases the exciting and innovative design projects that our undergraduate Engineering students create during the academic year. All Engineering majors will participate with 85+ projects on interactive display. For more information visit https://www.engineering.sdsu.edu/community-engagement/design-day.

Career & Internship Preparedness Basics
EMPLOYERS - Industry Partners - College to Career Connections
There are multiple capacities for employers to contribute to helping our College of Engineering students make career connections, introduce them to internship opportunities, and enhance their professional development.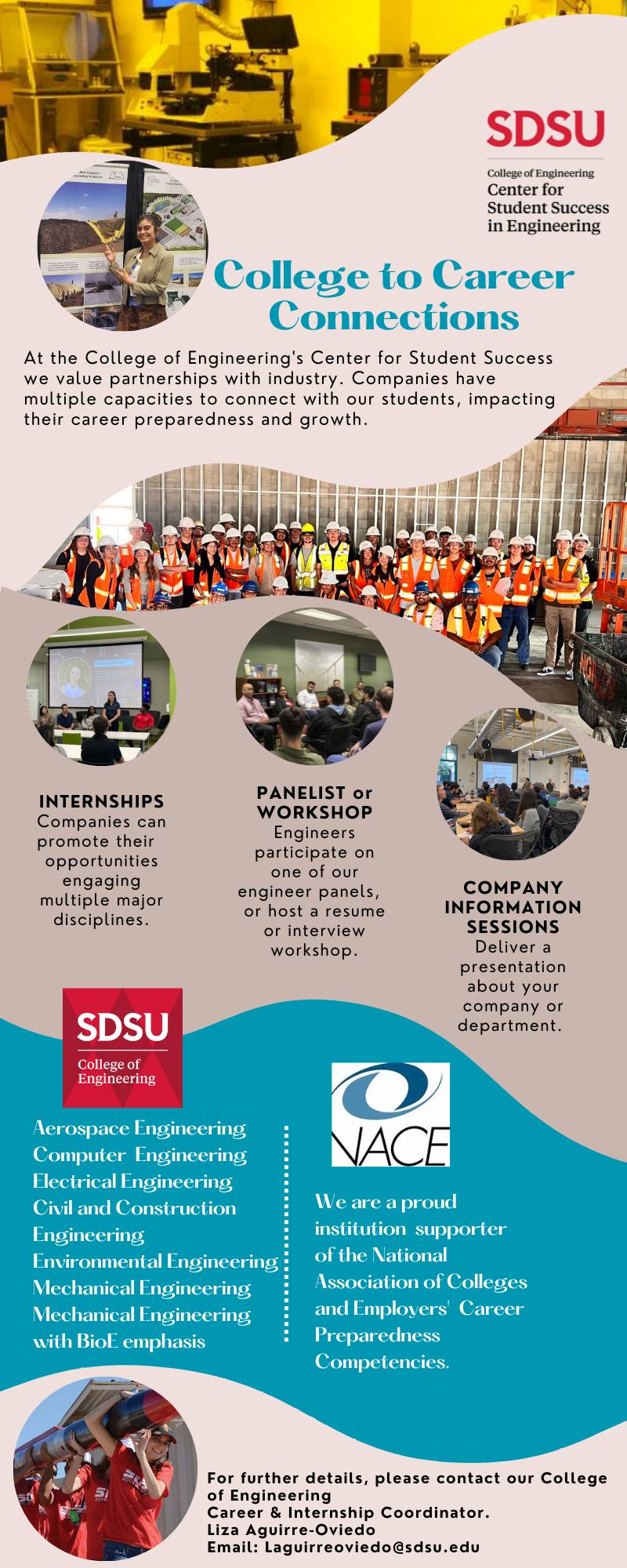 Internships
Internships allow students opportunities to learn professional skills, refine career interests, and make valuable connections in the San Diego Engineering community.
Established Employer Internships - Please send employer internship announcements for engineering students to Liza Aguirre-Oviedo, Career & Internship Coordinator, at [email protected]
How to start an Employer Internship - An employer has an interest in starting an internship program or designing a new internship opportunity? SDSU Career Services offers services to employers to help them set up an internship program and guides for employers to follow when creating an internship opportunity. For further details https://sacd.sdsu.edu/career/internship-central/employer-internships.
Engineer Panel Series and Professional Development Workshops
For engineering students, throughout the academic year the College of Engineering hosts virtual and or in-person panel discussions featuring engineers who represent different companies and engineering majors and disciplines, and professional development workshops. These valued events provide an opportunity for students to meet professional engineers, learn about industries, and professional career paths.
Thank you to the following companies and their engineers who participated with our February 2023 Engineering Panel Event Series: Griffith, HGA, CBG Building Co., 77 Electrical Services, GEI Consultants, EC Consultants, Meritor-Cummins, General Atomics, Qualcomm, Collins Aerospace, and Nothrop Grumman.
If you would be interested in participating or hosting a workshop, please email Liza Aguirre-Oviedo, Career & Internship Coordinator at [email protected].
Learn About Our College of Engineering Students